Zoho Sign – Signing documents automatically
An integrated Zoho CRM solution includes the ability to streamline your documents signing process.
If someone needs a document or contract signed, you can auto-populate parts of the form, track when the document is sent and opened, and record its signing through your Zoho CRM.
Securely sign, send, and manage documents from Zoho CRM.
Close deals faster than ever before
Fast-growing businesses across the globe rely on Zoho CRM to manage sales, marketing, customer relationships, and much more. Now, with the Zoho Sign extension for Zoho CRM, companies can simplify the way they sign business documents.
Zoho Sign helps you automate e-signature collection, improve turnaround time, and cut costs, closing deals much faster.
Add the Zoho Sign extension in a few clicks
You can quickly add the Zoho Sign extension to your Zoho CRM account directly from Zoho Marketplace and start streamlining your document signing process in just a few steps.
Why choose Zoho Sign and Zoho CRM?
Tighter integration
Zoho Sign's new extension for Zoho CRM now offers improved integration, including many exclusive features such as text tags, automated signing workflows using DRE, Mail Merge, and Zoho CRM template import options.
Enterprise-grade features
Configure your signing order and workflows, customize email templates, implement blockchain-based timestamping, set alerts and notifications, and do much more.
Sign documents on the go
The Zoho Sign extension works well inside your Zoho CRM mobile apps. You can also download our dedicated apps for iOS and Android to manage documents on the go.
Expanded integration options
Zoho Sign readily integrates with your popular apps like Dropbox, Box, OneDrive, Office 365, and our Zoho family of apps—Zoho People, Recruit, Writer, Forms, Flow, and more.
Zoho Sign Templates in Zoho CRM
We often use one common format for a particular type of document. For example, in every company, there will be one NDA document to be signed by all new employees and vendors. For scenarios like this, you can use the templates feature in Zoho Sign. With this feature, you can upload the NDA document once, add needed fields, create an NDA template once, and save a lot of time spent on drafting and sending signature requests for the same type of document again.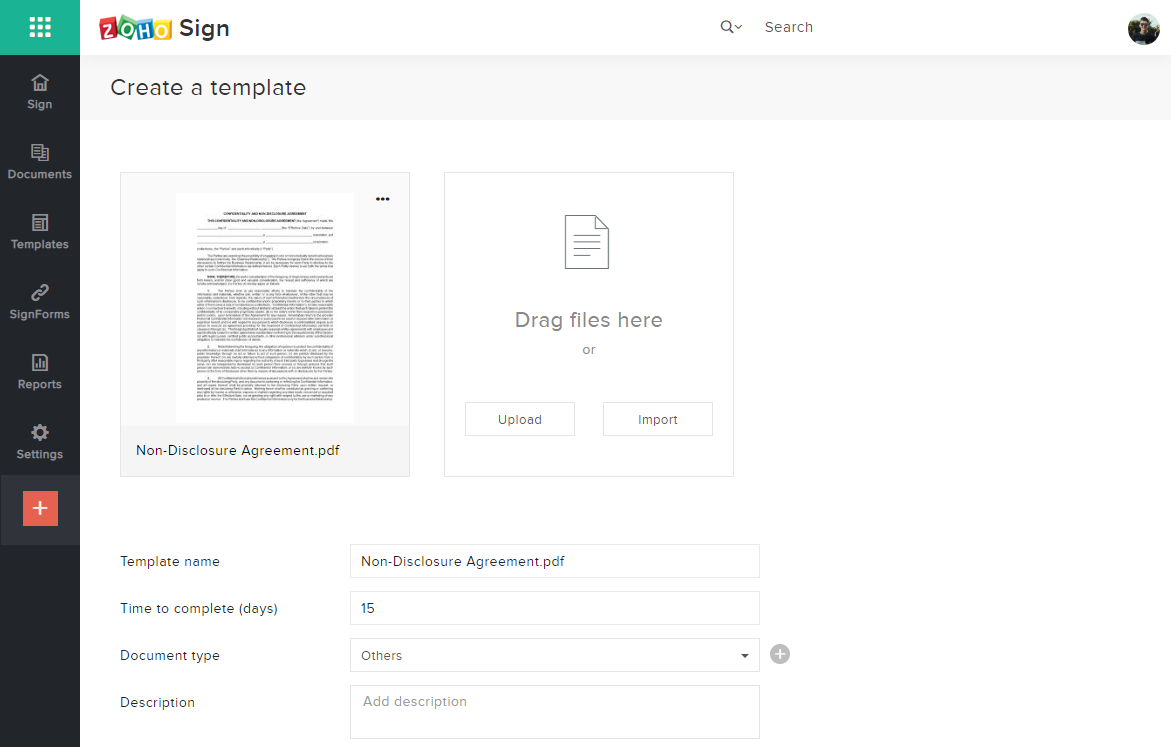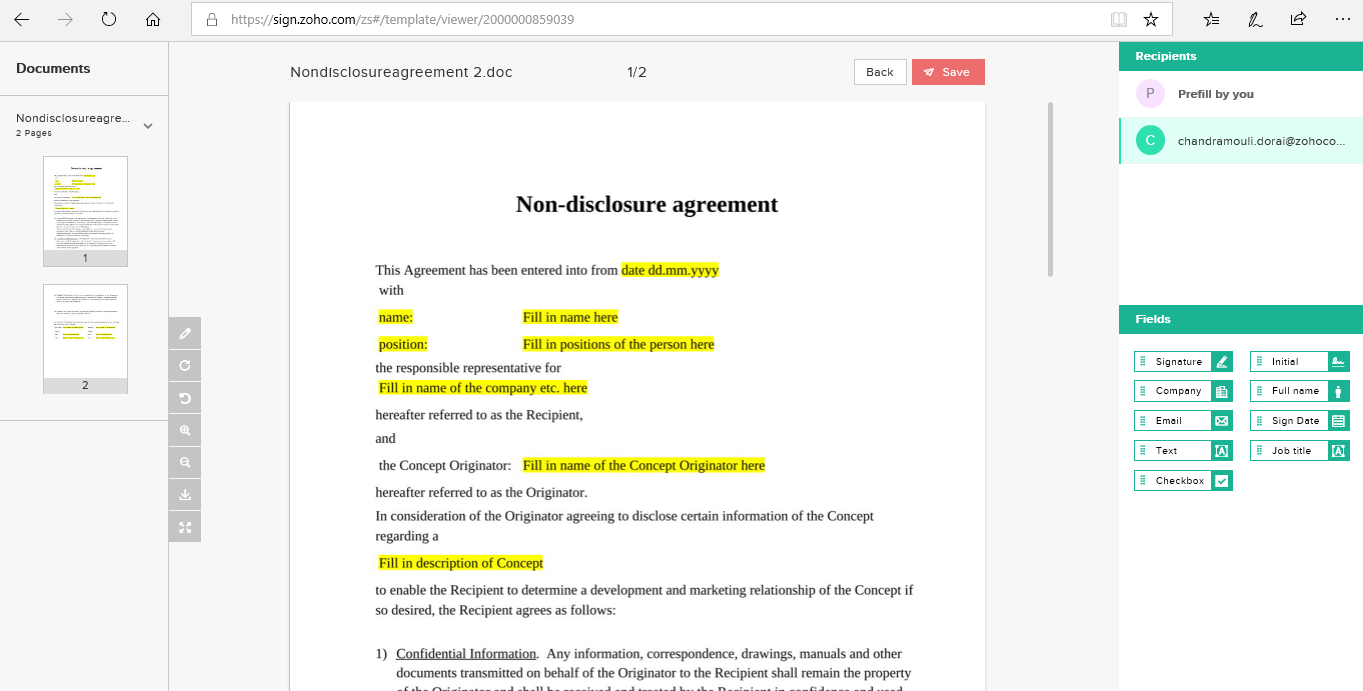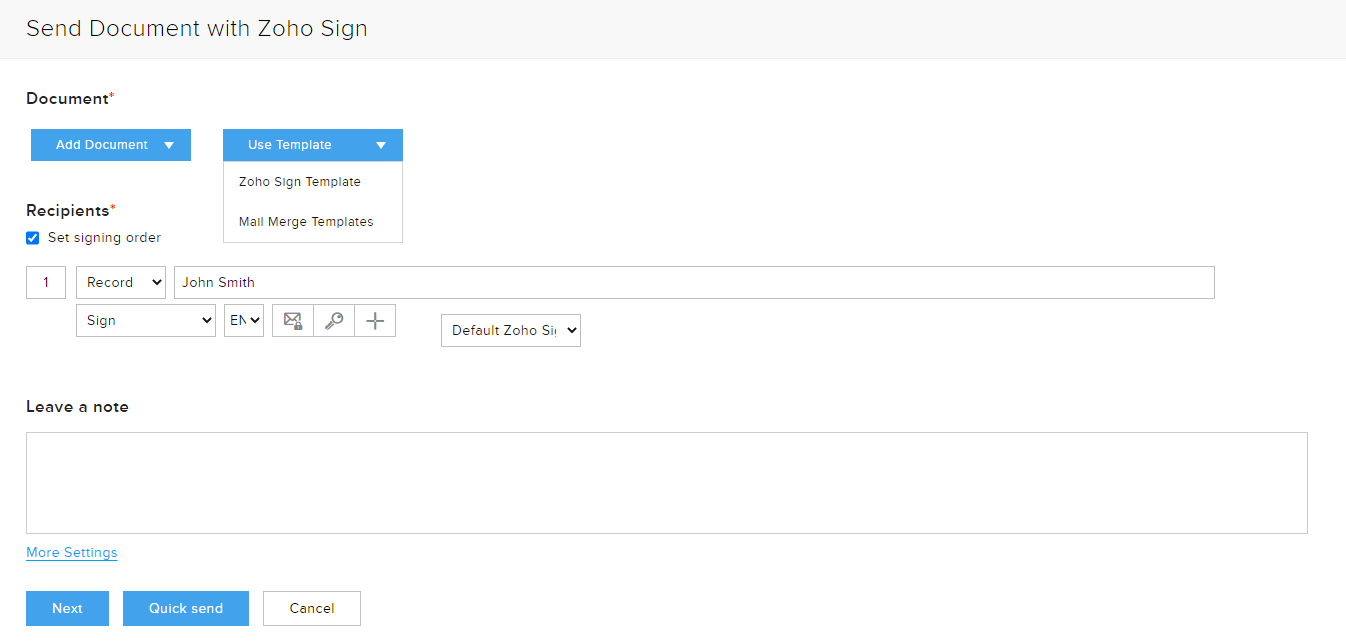 The integration doesn't stop there. You can even merge data from Zoho CRM to your Zoho Sign documents. This will help you streamline the signing workflow significantly. Here's an example of how you can create an NDA template in Zoho Sign and send it to the recipients for signatures from Zoho CRM.
Pre-requisites:
Professional Edition subscription and admin role in Zoho Sign
You need to have the Zoho Sign extension enabled to use a template from Zoho CRM