Real estate software to unify and streamline operations
As the real estate industry continues to evolve, it's important for realtors, property managers, and real estate agents to invest in technology solutions to rapidly transform and uncover new opportunities. Custom real estate software built on Zoho Creator's accredited low-code platform can help you overcome operational hurdles and run your business efficiently.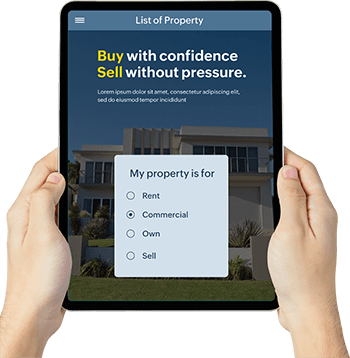 End-to-end real estate management
We can build tailor-made real estate management software on your own and oversee every aspect of your real estate business from a single place.
Whether you're a real estate business owner, a realtor selling properties, or a property manager managing multiple units, with Zoho Creator, you can automate manual processes, organize data in real-time reports, schedule meetings on the go, and communicate faster with clients.
Why custom real estate software?
Why real estate software on Zoho Creator?
Hassle-free migration
Import data from spreadsheets or other database applications easily using our built-in tools.
Low-code development
A visual drag-and-drop interface and ready-to-use code snippets and templates make it easy for anyone on your team to create apps.
Faster time to market
Roll out fully functional business applications faster, and access them on the Web and mobile.
Uncompromising security
Adheres to industry standards to ensure the complete safety of your data. Offers security features like audit logs, user-access control, and automated threat assessments.
Unlimited flexibility
Tailor your app to meet business requirements. Gather feedback and make changes, fix bugs, and update your applications in real time.
Seamless integrations
Provides prebuilt integrations with powerful APIs, so that you can easily connect and share data with the apps and services your business requires.
Multipurpose custom real estate software
Centralize all your critical documents

Upload an unlimited number of contracts, leases, receipts, floor plans, photos, and other important documents into the app. Whether on site or in the office, access them through the native Creator app and share them with prospects and owners whenever you need them.
Real estate management apps for you.
Property Maintenance Tracker : Handle maintenance requests efficiently
Real Estate Management : Scale your real estate business
Property Management : Manage your rentals
Construction Management : Manage multiple construction projects
Quotation Management : Process quote requests faster