Built for real estate agencies of all sizes, Zoho CRM offers cutting-edge sales process management, property management, and automation for real estate agents, real estate developers, and brokerage firms. Bring home more deals with the all-in-one real estate CRM platform that's crafted for your business.
What is a real estate 
CRM software?
Real estate CRM software is a system that caters to the multiple requirements of real estate agents and real estate firms. From managing incoming requests, to preparing price quotes, to selling a property, the real estate CRM system takes care of the end-to-end process management for real estate agencies. With dynamic capabilities on both desktop and mobile, you'll have more time to concentrate on every deal on hand and grow your business.
How is CRM important for realtors?
When it comes to real estate businesses, the way you engage your existing customers plays a crucial role in how you acquire future customers. Real estate is all about building trust, and it's no surprise that 82% of new property sales are referrals from either existing contacts, previous clients, family, friends, or relatives. Essentially, implementing a CRM software can work wonders for realtors by helping them manage their incoming leads, track interactions, and stay on top of important tasks.
Why choose Zoho CRM for your real estate business?
Built-in campaigns
for sending out targeted lead nurturing emails
Project management
tools to keep tabs on all your ongoing projects
Third-party integrations
and APIs to improve productivity
Complete customization
to accommodate the unique processes of real estate agents
Self-service portals
to connect both sellers and buyers directly with your business
Key features of real estate CRM software
Capture and convert leads
Swiftly move your leads through your sales pipeline using Zoho CRM's highly effective lead management features. Generate leads from webforms, website live chats, social media, or business cards, and push them into your Zoho CRM sales funnel. Automatically assign leads to sales reps using predefined workflow rules and use lead scoring to see which prospects your team needs to focus on.
Easy invoices and bills
Zoho CRM helps you complete your sales cycle by enabling your team to create and store quotes, invoices, price books, and bills in their accounts. Manage all your post-sales processes using powerful inventory management features, and share your quotes and invoices to prospects through custom email and invoice templates.
Automated selling and Blueprints
Automate your follow-up emails, Zoho CRM field updates, and notifications to give your sales reps time to close more deals. Use Blueprint's process automation capabilities to ensure everyone on your team follows the right sales process. Blueprint's built-in process reports help you identify and rectify bottlenecks in your processes.
Seamless and powerful integrations
Manage your complete sales cycle from a unified Zoho CRM interface. The free Zillow integration gives you a consolidated view of any property's availability, address, home value, comparable homes, and Zestimates®, directly within Zoho CRM. Also, Zoho Phonebridge lets you choose from over 50 telephony providers like RingCentral, Vonage, and Amazon Connect, and add integrated click-to-call, automated call recording, call logging, and analytics to your Zoho CRM account.
Close deals on the move
Scan QR codes or business cards in 17 different languages to automatically add them as a Zoho CRM lead or contact. The card scanner app lets you schedule follow-ups and use prebuilt email templates so you don't have to wait to get back to prospects. Zoho CRM's mobile app also gives you real-time sales performance reports and insights, while also letting you schedule and log meetings, add follow-up tasks and find prospects near you while you're on the move.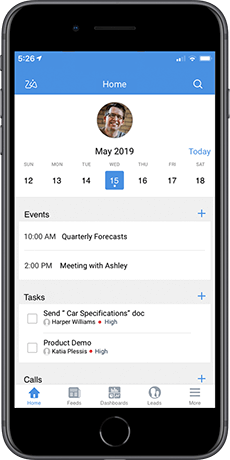 Benefits of a CRM software
300%
Improvement in lead conversion rates
41%
Revenue increase per sales person.
26%
Improvement in customer retention rates
47%
Increase in customer satisfaction rates
Integrate with your favorite apps
Zoho CRM works with products you use every day. Seamlessly integrate with more than 100 popular business apps and let CRM talk the same business language as yours.